Young visitors
The museum team is delighted to welcome young visitors.Special activities are offered for them!
"À la carte" visit
Guided visit or free visit with the family.
Playful little books ( 3-6 years old, 7-10 years old and 11-15 years old ).
Thursday workshop
In July and August at 2 pm 30
for children from 6 years old in group of 10 chidren maximum
Bookings: 06-24-71-51-38
2 themes
Plays about the everyday life in bygone days.
Plays using the 5 senses about the explanation of making wine.
« File for drawings »
Everybody can leave an artistic piece by placing it into the file. The best drawing will be put online and an exhibition will invite visitors to discover them.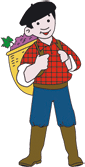 The cellar museum presents things to protec them and to show them to visitors. These things are attended to and studied.They take center stage in order that everybody can admire them and recapture the way they were used. They called people who worked with.
In the cellar museum, there are tools, engines, photographs, drawing plans, posters, registers and penning letters. Most of these things are more 100 years old.
So, of course there are a few rules:
In the museum things are fragile. Only eyes can touch them.
In order to avoid oneself hurting or damaging anything, it is better not to run, jump or slide.
At least, crying, drinking, eating or throwing paper in the museum can trouble the other visitors; Thanks for your understanding.